Lyrics - Journey's End
Here I lay at my journey's end,
In the smuggler's inn at the pantiled Bay,
I'd roamed the journey in my sleep,
Since I arrived here yesterdaY...

I then arose from out my bed,
Strong in the knowledge of a dream,
Of tales that had raced through my head,
About the places I had been...

I'd found a path in the weeks gone by,
No longer felt inclined to roam,
The black lodestone was a summer's dream,
I packed my bags for the busride home...

Washed my face, combed my hair,
Put some plasters on my feet,
Looked through the glass of the dusty panes,
Where the 'Dolphin' swings on the cobbled street...

As I looked down towards the Bay,
I saw a man standing in the rain,
I wiped the sleep from out my eyes,
Shook my head, and peered again...

A black stone hung around his neck,
He held two staves in perfect line,
Then suddenly I saw his face, and started back,
For the face was MINE!

I put my hands up to my face,
Looked again and he was gone,
And all I heard were the timeless words,
And the timeless tune of a timeless song...

TAKE THE STONE MY MOTHER MADE,
ON A SILKEN THREAD LET IT SWING FREE,
TO GUIDE YOU ALONG THE LINES OF FORCE,
TAKE TO THE LAND AND FOLLOW THE LEY...




---
For more music go to the audio page.

---
See the notes about this song
---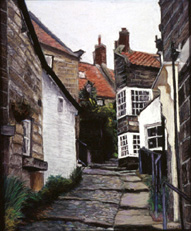 Robin Hoods Bay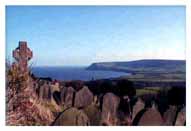 The Graveyard at Robin Hoods Bay