Lyrics - Cleveland Hills
This ae neet, this ae neet, ivvery neet and all,
Fire and fleet and candleleet,
An' Christ receive thy saule...

Above the plain and the Teeside mills,
I climbed next day to the Cleveland hills...

Take to the moors and follow the ley,
Stretching as far as the eye can see...

Burnt off bracken, stones and ling,
Follow the birds upon the wing...

Follow the stone to the open sea,
To the whinny moor where the wind blows free...

Follow the oldjet miner's track,
To the cold Handstone where the earth is black...

From the cross that gave succour to the needy poor,
To the stoney howes on the windswept moor...

By the Smugglers Trod and the standing stones,
To the place where they found the peddler's bones...




---
For more music go to the audio page.

---
See the notes about this song
---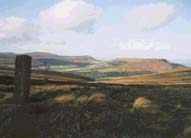 The Cleveland Hills