Pathfinder - The Story
Many people have undertaken the 'Coast -to -Coast Walk' since the early seventies. But when I did it, the route was fresh and unspoiled. The only other person I encountered making the journey was a young man named Ian, and he, like myself had encountered incredulity among many people who had never heard of this new long distance way. When we walked separately, we were able to pick up on each others traces, but when we walked together there was no sign of anyone else on the route.
For that brief summer window, eleven days of fine, warm weather, the Coast-to-Coast Walk was ours and ours alone.On parts of the walk we felt we were the first people there since Wainwright had surveyed the route, and that consequently his book might be dedicated to us!
As I have said, the journey was a rite-of passage. The bronzed and muscular young man who limped into Robin Hoods Bay imbued with a 'can do' confidence that was to support him for years to come, was a far cry from the timid overweight young man who set out from St. Bees eleven days before.I had completed a rare expedition - little did I know that a much bigger journey was just beginning.


The following year, I was back at Robin Hood's bay again. This time, accompanied by my friend Mal Laws, I had designs on a reverse crossing back to St. Bees. Alas, the attempt was doomed to disaster! Soaked through, belaboured by wind and rain, we finally gave up the ghost at Grasmere when we ran out of cash!
It was a disappointment, but by now the factors that would result in 'The Pathfinder' were well under way.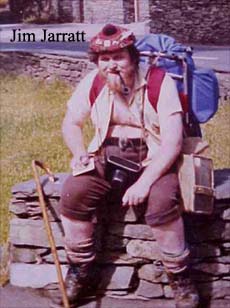 All musical and lyrical material on this site is COPYRIGHT JIM JARRATT & MAL LAWS 2002. No part of THE PATHFINDER may be reproduced or performed for commercial purposes without the express permission of the authors. While it is accepted that parts of the site may be freely downloaded for private use, we ask in return that you respect the ownership of our work.