"On the morning of the first Sunday in June 1973, I set out on a journey.
I could not know then that it was a journey that was going to remain with me in one form or another for the rest of my life, a journey that would be first a young man's rite-of-passage and later a source for all manner of creative inspiration.
Here I was, 23 years old, sheltering from a brief shower on the foreshore at St. Bees, Cumbria, armed with rucksack, boots, staff and a just-published walkers guidebook by A. Wainwright - 'A Coast-to-Coast Walk'.
My objective was simple - to walk, alone, across Northern England to Robin Hoods Bay on the Yorkshire coast, traversing the Lake District, The Pennines and the North Yorkshire Moors in the process.
What happened on that journey, and what transpired after it as a result, is the subject of this website."
Sit back, relax and enjoy our musical journey into history, tradition and the supernatural.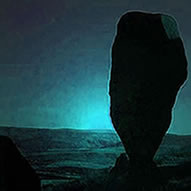 ---
"Take the stone my mother made
On a silken thread let it swing free
To guide you along the lines of force
Take to the land and follow the ley...."
---
For more music go to the audio page.
All musical and lyrical material on this site is COPYRIGHT JIM JARRATT & MAL LAWS 2002. No part of THE PATHFINDER may be reproduced or performed for commercial purposes without the express permission of the authors. While it is accepted that parts of the site may be freely downloaded for private use, we ask in return that you respect the ownership of our work.