Lyrics - Mowbray Vale
I left the town in the early morn,
I left the town at the break of day,
I left the castle on the rock,
Where Arthurs sleeping knights do lay...

Jack - by - the - hedge and the elder tree,
In the sandy fields of monstrous size,
Follow the Swale to the chantry bridge,
Where Edwin's people were baptised...

Walk- and meet the land halfway,
By the loamy ditch and the fairy rings,
Where the partridge flies through the great hedgerow,
By the tree where the bloodied robin sings...

Plough the soil and till the land,
Hedging, ditching, spreading lime,
Scatter the seed of the old dodman,
Life from death, and death to time...

I came to Bolton-by-the-Swale,
Young and living in my prime,
Past the grave of a labouring man,
Who lived to a hundred and sixty nine...

Walk through the vale on a grassy track,
On the fertile loam where the crops grow high,
On the bloodsoaked soil of the tablelands,
Where the bones of a million soldiers lie...




---
For more music go to the audio page.

---
See the notes about this song
---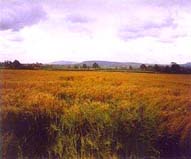 The Vale of Mowbray