Lyrics - Mowbray Vale II
The fields are green where the flowers grow,
The thistle, the white rose and the red,
Far from the wars of long ago,
The fallen and the dead...

Where are you now great knight of steel?
Your sword all in your hand?
It's part of a farmer's ploughshare blade,
Tills your bones as it tills the land...

Where is the helm that graced your brow?
The victory you made?
Beneath the hoof of the sloe eyed cow,
A skull turned out by the ploughshare blade...

A memory in the hawthorn hedge,
Where the crow pecks soil for food,
Where the rabbits play at the meadows edge,
The worms in your eyes feed the robin's brood...




---
For more music go to the audio page.

---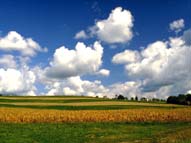 The Vale of Mowbray