Lyrics - The Western Fells
So I turned my back on the western waves,
And made for the mountains far inland,
With a rambler's pack and a crooked staff,
And a leather bottle in my hand...

The day was hot and the road was hard,
As I crossed that dusty western plain,
By the field where the hedgehog whined,
By the foxgloves in the grassy lane,

At the end of the day I came to the dale,
Where the mountains soar and the herdwicks graze,
At Ennerdale Lake, by the green man's chair,
I came to the joining of the ways...

In the dale of the hawk and the vampire dog,
I followed the lake my feet were sore,
By the pitching screes of the Anglers Crag,
Till I came to rest by a great nailed door...

I asked for bread, I asked for milk,
I sought for a place to rest my head,
At midnight heard the swish of silk,
Of the ghost that walks by the travellers bed...




---
For more music go to the audio page.

---
See the notes about this song
---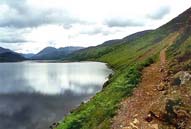 Ennerdale Lake