Notes - Pam The Fiddler
I first discovered 'Awd Pam' back in the 1970's when reading Halliwell Sutcliffe's magnificently romantic book 'The Striding Dales' which covers most of the folklore of that area.

Old Pam reputedly haunts the old school at Threshfield. A demon schoolmaster murdered by a one time rector of Threshfield.

Folklorists are more expansive, suggesting that 'Pam'is a corruption of the ancient God 'Pan', hedonistic guardian of flocks and pipe playing seducer of maidens. Possibly there was a Romano-British shrine to him once at Threshfield, no doubt proscribed by the Christian Church long ago.

I saw a song in there long ago, and indeed wrote one in the 1970's, but it was unimpressive, and was quickly abandoned. Many, many years later with the production of 'Jannock' I embarked upon the project anew, and this time created a lyric that 'did the business.'


Musically, the use of syncopated rhythms and darbuka injected an exotic eastern mediterranean rhythm to song firmly rooted in Pennine North Yorkshire. The effect was outstanding!



As for where I got the sound effects from - Dont ask! Lets just say she wasn't acting!


---
For more music go to the Jims CDs page.

---
Back to Lyrics - Pam The Fiddler
---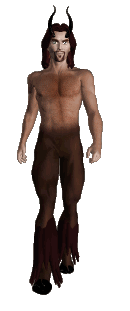 The Horned God.